http://www.guardian.co.uk/music/2009/jul/06/jack-white-label-subscription-service
Jack White's label launches subscription service
The White Stripes' frontman's Third Man Records is offering fans access to a treasure trove of tickets, T-shirts and rare vinyl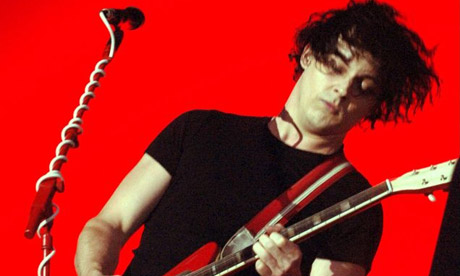 Jack White's Third Man Records has launched an online subscription service, giving fans access to rare videos, pre-sale tickets and exclusive vinyl records and T-shirts. All Third Man acts – which are mostly White's bands like the Raconteurs and White Stripes – are to be involved.
As with most fan clubs, Third Man's service – dubbed the Vault – is a mixture of compelling original content and boring super-fan minutiae. The promise of exclusive photos and an "official chatroom" doesn't exactly set our world alight – but White is also promising subscribers four 7" records, four 12" records and four new T-shirts a year.
Of course, if you want to enjoy the benefits, you will have to take out your chequebooks. A "two-tiered" service, the Vault makes certain things available for $7 (£4.25) per month – the photos and chatroom, for instance – but requires $20 (£12.25) per month for exclusive records. That $240 (£159) a year may bring in a rare White Stripes single – but you may also end up paying for a few Dex Romweber T-shirts.
Still, there's much to be said for unfettered access to what Third Man calls "hijinx". White is one of the busiest men in music, contributing to everything from Dead Weather to James Bond soundtracks, prone to one-off gigs in school buses and on ferries. And so for better or worse, it may not be an exaggeration when Third Man writes that "if you knew what we had lying around here, you'd crap your pants".
The label has even pre-emptively responded to their most cynical subscribers. "We hope you want to subscribe to our service because you're a die-hard fan of Third Man," they say. But "even if you are not, it would at least be an investment plan far more reliable than Wall Street".