Radiohead to release King of Limbs remixes
Oxford band announce series of 12in singles, featuring album tracks revisited by Caribou and Flying Lotus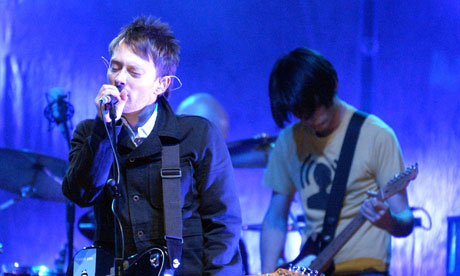 Radiohead have announced the first in a series of limited-edition 12in remixes. Using select indie record stores and their own website, the Oxford group will issue vinyl records revisiting tracks from The King of Limbs.
The first remix single is due on 4 July (5 July in the US). It will include new versions of the songs Little By Little and Lotus Flower, remixed by Canadian electronic acts Caribou and Jacques Greene, a relatively unknown Montrealer.
Radiohead are keeping mum on how many remixes they have planned, as well as how many copies of each 12in are going to be released. We don't even know the names of future remixers. Except for, er, one. Flying Lotus, who already worked with Thom Yorke on a one-off single, recently said Radiohead "wanted me to remix [their] new record". "I've been trying to mess with that a little bit," he said. "It's difficult to work with, because the pieces that they gave me, there's no real a cappella. It's like piano and voice at the same time."
Just a few days after the first 12in release, Radiohead will make their debut live performance of The King of Limbs. On 1 July, BBC Worldwidewill broadcast a concert from Nigel Godrich's studio, featuring renditions of every track on the album plus "some additional behind-the-scenes material". Radiohead have yet to announce any 2011 concert dates.
http://www.guardian.co.uk/music/2011/jun/07/radiohead-king-limbs-remixes?INTCMP=SRCH