http://www.guardian.co.uk/music/2013/jul/17/former-hmv-worker-opens-shop-called-hvm?INTCMP=SRCH
Former HMV worker opens new shop named HVM
Derry local, a HMV worker for a decade, flips sign upside-down after letter from HMV's legal team: store is now WAH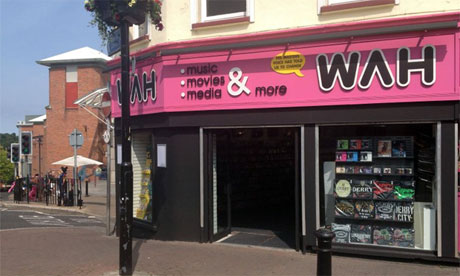 A former HMV employee, who opened his own shop called HVM last week, has been forced to change its name to WAH after facing legal action from the original store.
The Derry-based record shop is run by Tony Cregan, who worked atHMV in the city's Richmond Centre for a decade before it closed last year following the businesses' financial crisis. According to entertainment.ieCregan claims his branch of HMV consistently made a profit and raised 15,000 signatures on a petition to have it saved, until he decided to go it alone. "We thought, what is the point calling the new shop Local CDs or whatever, we'll just call it HVM. HMV is gone," Cregan explained.
However, a week after the shop opened, Cregan was accused of harming HMV's reputation by confusing locals who might think the two shops are associated, receiving a strongly worded letter from their legal team. HMV are still trading in the UK and Ireland after being sold torestructuring specialists Hilco, who warned Cregan that his store would "cause substantial damage to our client's reputation and goodwill".
Shortly after receiving the letter, Cregan had an epiphany when a customer who possessed a particularly distinctive local accent unwittingly offered up an alternative name: "We were talking in the shop about what was going on and some boy who overheard us turned around and said 'HM what?'" Cregan said, "So we just turned the sign upside down and now it's called WAH." A small speech bubble has also been added to the sign, which reads: "His Master's Voice has told us to change."
Cregan is determined to fight his former employer and also stated that the attention around this dispute has caused the city's locals to rally around the store in support: "In their legal letter, they quoted our use of their colour scheme – pink and black. People are saying do they own the alphabet and the rainbow as well? Did they copyright them?" he added. "It's like David and Goliath. People are saying to fight them."